Thank you to everyone who helped to bring the National Symposium on Japanese language Education 2016: Visible and Valuable to fruition. Thank you to the presenters who were generous with their time and expertise and the delegates for their interest and willingness to attend (many form very far) during this busy time of year.
The feedback has been very positive and we thank those who have sent and posted messages. We look forward to seeing you all at the next National Symposium on Japanese language Education  –  2018 in Sydney.
Japan National Tourism Organization (JNTO) cordially invites Japanese language educators to attend the "Japan School Tours Seminar".
Presentations topics at this year's symposium will include
Innovative programs – models for success
Australian Curriculum: Languages – Japanese
The Current State of Japanese Language Education
Some presentations will be made in Japanese.
All educators and stakeholders involved or interested in Japanese Language Education are welcome.
Registration closed
2016 National Symposium on Japanese Language Education
Travel Grant
KEYNOTE SPEAKERS ANNOUNCED
Ms Sheereen Kindler – Principal Glen Eira College
Title Languages are valuable – make them visible  
A school  culture that supports the leaning of languages is vital to the success of any language program. Language teachers can sometimes feel isolated and struggle to get the support they need to really promote the enormous value learning a language has to their community.
At Glen Eira College we have worked diligently as a team to embed a culture that values language learning across our community.
Sheereen will speak from her point of view as a Principal as to how best language teachers can engage their principal and their community in the value of language learning for their students.  She will provide practical ideas as to how teachers can make languages more visible in their school and gain the confidence of their leadership team in promoting a culture where languages are valued by students and parents.
Professor John Hajek – Professor of Italian Studies and director of the Research Unit for Multilingualism and Cross-cultural Communication (RUMACCC) at the University of Melbourne
Title "From 'I love Lucy' to 'I love languages': using popular culture and promotion to make languages visible and valuable"
Language education in Australia and other English-speaking countries has long faced a series of perennial and often intertwined challenges. Amongst the long list of issues,which manifest themselves in schools and society more generally are the following: (a) the low value assigned to multilingualism, and thereby to language learning, (2) anxiety around adequate proficiency in English – also tied inextricably to general literacy or numeracy skills; and (3) misguided ideas about English itself as the world's lingua franca. While we have developed and engaged a long list of serious responses to address many of these concerns, experience shows they haven't been particularly effective in shifting attitudes and behaviours. I argue here that while these responses are all valid, it is time also to consider a new tack – that uses popular culture in surprising ways (even turning it on its head) to capture people's imagination or attention. In this lecture I show how classic examples of Anglo pop culture can be used unexpectedly to reduce resistance to language education and multilingualism. I also show how at a very practical level Japanese and the world it represents including popular culture lend themselves to positive and effective language promotion in our school communities.
Symposium Dinner Guest Speaker Adam Liaw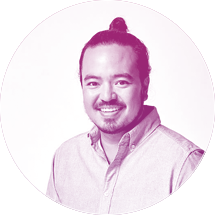 The Melbourne Centre for Japanese Language Education together with The Japan Foundation, Sydney
is pleased to announce the wonderful Adam Liaw, one of Australia's favourite foodie celebrities and former
winner of MasterChef as the NSJLE: 2016 Dinner guest speaker. Adam Liaw is a cook, author, television
presenter and a former lawyer, Adam worked in the corporate in Japan and is fluent in Japanese.
His latest release, THE ZEN KITCHEN, is a beautifully designed cookbook that makes
Japanese meals easy for the family cook to prepare.
Places at the symposium dinner are limited so book for the
symposium and the dinner soon to avoid disappointment.
The National Symposium on Japanese Language Education 2016 Dinner will be held on Friday 4th November 2016,
10th Floor of the University of Melbourne Law Building [same building as the symposium] from 7pm.
Registrations are essential. Register for the dinner on the symposium registration form.
Do you have research, study, or a program you'd love to share with your peers from around Australia?