2021 Registration Rates
Date: November 5-6, 2021 (Fri, Sat)
State Library Victoria (328 Swanston Street, Melbourne)
【Early Bird Rates】May 1, 2021 – July 15, 2021
2 Day: $430
1 Day: $260
【Full Rates】July 16, 2021- October 15, 2021
2 Day: $520
1 Day: $350
【Student Rates】
FULL time Bachelor or FULL time Master Student ONLY
(Photo copy of 2021 Student ID must be sent to us)
2 Day: $350
1 Day: $200
Please

USE your PC to register.

 Registering by iPad and mobile may not show all required information to register.
Registrations essential.
ALL presenters will be given a discounted Early Bird rates (Code will be provided) registration. 
*No Early Bird rate for student pass
2021 Symposium Dinner
Date: November 5, 2021 (Fri)
Time: 7:00pm – 10:00pm (venue opens from 6:30pm)
Venue: Ian Potter Queen's Hall (328 Swanston Street Melbourne VIC 3000)
Cost: $110.00 (inc GST) per person  *Symposium delegates ONLY
Menu: Seated 3 course dinner with drinks 
Registraton deadline: Oct 15, 2021 (Fri)
Places for dinner are limited. To avoid disappointment please book at the Symposium Dinner ASAP.
State Library Victoria Accommodation Partners 
There are many accommodation types available in the CBD of Melbourne ranging from budget to luxury hotels, hostels and apartments. The State Library of Victoria has partner hotel deals with four hotels if you wish to stay at any of these.
Rydges Melbourne
The Victoria Hotel
QT Melbourne
Rydges on Swanston
Dinner Guest Speaker
Mat Bowtell
Engineer and founder of Free 3D hands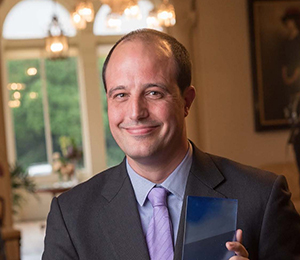 Biography
Meet Mat Bowtell, engineer and prosthetic limb innovator
Mat studied engineering at Monash University, and in 2004 was sent to Chiba University in Japan on a scholarship to study mechatronics. During that time, he tried on a one-million-dollar bionic arm. He was very impressed with the technology.
Mat worked at Toyota for 10 years as a senior engineer, specialising in lean manufacturing spending a year on transfer to Motomachi Plant in Japan. He spent three years in Supplier Development, helping suppliers improve their processes, reducing waste and improving the quality of their products.
He introduced 3D printing to Toyota Australia to implement low cost solutions.
In 2014, Toyota Australia announced that the Altona Plant was to close in Oct 2017. It was at that time that Mat wanted to do something positive with his engineering skills during the wind-down of the automotive industry.
He re-visited his interest of bionics and prosthetics that he had from his university days, and combined that with the skills that he had learnt at Toyota to try to make devices that would be accessible to all people around the world.
Mat purchased a 3D printer, software and a 3D scanner to start developing 3D printed hands from home and realised that it was something that he wanted to keep doing.
Mat has recently formalized as a charity Free 3D Hands. His vision is to be able to provide all people with the same level of assistive device regardless of where they are born or their financial situation
People can follow his work at <www.facebook.com/free3dhands>
Awards:
2018 VIC Local Hero recipient, Australian of the Year Awards
2018 Westpac Social Change Fellowship recipient
Commonwealth Points of Light Award recipient for Australia, Her Majesty The Queen, 2019
Early Bird Rates
(May 1 2021 – July 15, 2021)
Full Rates
(July 16 2021 – October 15, 2021)
Student Pass
*FULL time Bachelor or FULL time Master Student ONLY
(Photo copy of 2021 Student ID must be sent to us)
**No Early Bird Rates for student pass